Keyless Entry Smart Wi-Fi Deadbolt with Touchscreen Keypad

Your Finger is the Key: Smart Lock recognizes your fingerprint in just 0.3 seconds and unlocks your door in 1 second—it's faster than fumbling for your keys.
Home is just a touch away with a eufy Security Smart Lock Touch & Wi-Fi. Your keys are always on hand with Fingerprint Unlock. Forget the headaches that come with losing your key and have safe access to your home. Open using your fingerprint, with your phone via the eufy Security app, or by using the keypad or key. Create a temporary password for your neighbor or babysitter that allows them to unlock your door during the time frame you set.
Come rain or shine, Smart Lock boasts an IP65 rating so that it is always ready to protect your home. Tested to last for 250,000 unlocks, Smart Lock is designed to be fully functional even after 30 years of use. Smart Lock incorporates stainless steel and zinc alloy for unrivaled front door protection. Proven to stand strong under vigorous testing standards to ensure your safety.
Quicker Than Unlocking Your Phone — Ultra-Fast Access
Smart Lock is powered by a Mabuchi motor that allows you to unlock your front door in less than a second. Mabuchi motors are world famous for their reliability and speed. It recognizes your fingerprint in just 0.3 seconds and unlocks your door in 1 second. Even when you're in a hurry, Smart Lock is ready to protect your home.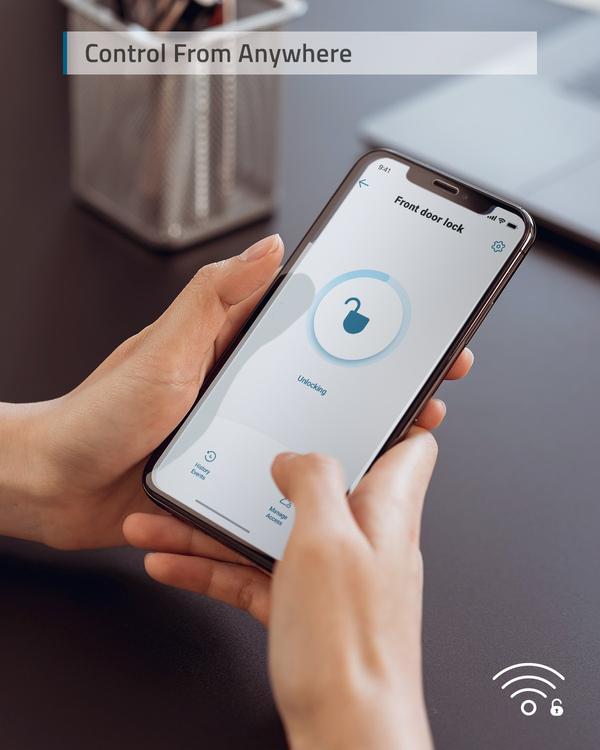 Never Wonder if You Forgot to Lock
Wave goodbye to that "Wait, did I lock the door this morning?" moment thanks to Smart Lock's auto lock function. The gyroscope and geomagnetic chip detect when your door is unlocked and tigger the lock after a set time.
Built to Last
With a sturdy zinc alloy and stainless steel frame, Smart Lock is tested to handle the comings and goings of a busy household for over 60 years. The IP65 rating ensures that come rain or shine, your front door is protected.
Strong, Sturdy, and Reliable
Smart Lock is built tough with stainless steel plating that can handle 2,474 lbs (1,122 kg) of pressure, and it's been tested to lock and unlock over 250,000 times without failing.
Sponsored Link
Sponsored Link